Four More Years. Four More Years. Four More Years.
It was a rabid yet cathartic release of eight years of pent up rage, humiliation and despair that said everything about how much this Rugby World Cup means to New Zealanders. In 2003 when George Gregan shouted the notorious "Four More Years, Boys" sledge into the face of fellow halfback Byron Kelleher, it was clearly cruel but also right on the button. Just how much hurt it caused to New Zealand fans was sadly apparent during the New Zealand v Australia 2011 semi final at Eden Park. Finally allowing themselves the luxury of accepting the All Blacks had wrapped up the game, most of the 60,000 black-adorned crowd at Eden Park spontaneously erupted into a thunderous chant of "Four more years, four more years". Notoriously quiet fans in comparison to other rugby nations, the chant showed not only that New Zealand rugby fans have found their voice, but also that World Cup disappointment has turned them into a hive mind of collective consciousness.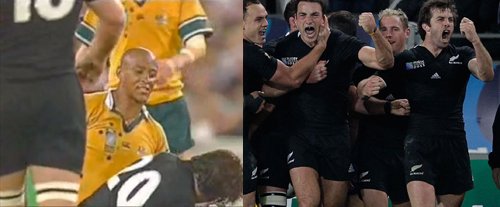 What hurts New Zealanders about their early World Cup exits, also known as 'choking', is the elation and confidence leading into the knock out games. It simply makes the crashing disappointment all the more vicious. In 1999, 2003 and 2007 the All Blacks had humiliated their opponents not long before a rematch at the World Cup. They destroyed France 54 – 7 four months before the 1999 semi final, embarrassed Australia 50 – 21 at the same stadium in 2003 and comprehensively defeated France 61 – 10 and 42 – 11 four months prior to being eliminated from the 2007 tournament in the quarter finals. Why wouldn't New Zealanders feel confident leading into any game under such circumstances? George Gregan certainly knew what the expectation was when he spat those immortal words at Byron Kelleher.
The Wallabies did not have a single survivor from that epic 2003 victory in the 2011 rematch. Only locks Nathan Sharpe and Dan Vickerman remain from the 2003 squad, but Vickerman did not play in the 2003 match, and Sharpe did not play in the 2011 match. However, for the All Blacks the hurt would still remain for Keven Mealamu, Brad Thorn, Ali Williams and Richie McCaw, all of whom played in both matches. Ma'a Nonu and Corey Flynn were part of the squad in both World Cups, as were the recently injured Mils Muliaina and Daniel Carter. In the unlikely event they forgot what the early exit felt like, 60,000 fans at Eden Park were there to remind them.
Hopefully the semi final victory offers some cathartic release to New Zealand rugby fans. Some small pockets of Eden Park tried ungraciously to start the chant again during James Horwill's aftermatch speech, and even fewer spitefully taunted Wallaby fans travelling home. However, most of the New Zealand fans graciously clapped the Wallabies as they left the field, giving hope that New Zealanders just might be able to put their heartbreak of World Cups behind them and just enjoy the game.
New Zealand went on to win the 2011 Rugby World Cup, defeating France 8-7 in the final.
Share: