It's arguable whether a player has ever been so dominant in back-to-back Super Rugby competitions as Damian McKenzie. The diminutive Chiefs fullback was so far ahead of the rest in terms of running metres, carries and tackles beaten that he was in another stratosphere. Anyone owning the player in Fantasy Rugby Draft (despite my early prediction that uncertainty around goal kicking made him a risky number one pick), had such a leg up in the competition it wasn't fair. In 2016 McKenzie scored 25% more fantasy rugby points than the next highest scorer. In 2017 it was 35% more. In a game where 200 points is a good score for your whole team, McKenzie scored 71 in the final.
Frankly, in Super Rugby he was on a level.
Super Rugby is not test rugby though, and you only have to look at the average score line to realise that. So the question that needs to be asked, and the question the All Black selectors seem to be asking is…
IS DAMIAN McKENZIE CUT OUT FOR TEST RUGBY?
He might not be.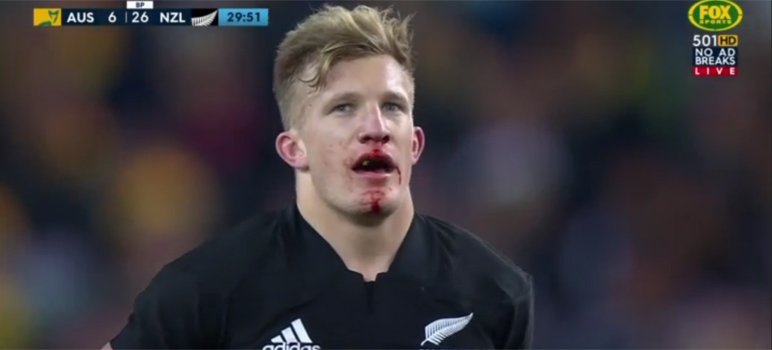 McKenzie plays the game at 100 miles per hour. His pace, skill and anticipation combined with the speed he plays the game allows him to dominant in Super Rugby. No other back gets more involved. However, you can't play the game at that pace and not make mistakes. Admittedly, McKenzie's error rate is low compared to his involvement but he still makes mistakes and while you can cover for these at Super Rugby level, there is far less margin for error in International rugby.
IS DAMIAN McKENZIE'S TOO SMALL?
Damian McKenzie has two other barriers stopping his elevation to the test arena. First, his size. In a game where size matters he's around 1.75 metres (5 ft 9 in) and 81kgs (178 lbs) and almost always the smallest player on the field. He's small for a fly half, let alone a fullback. New Zealand's most regular rival, Australia, plays Israel Folau at fullback, who is 193 cm (6 ft 4 in) and 103 kg (227 lb). However, at some point you have to stop using a player's size against them when they prove time and again it's not an issue. McKenzie runs more into heavy traffic than players twice his size and gets back up twice as fast. While he is shorter than other fullbacks and wings he tends not to get targeted under highball. Also, defensively he's actually one of the better tacklers. Watch these try saving tackles on Nemani Nadolo and George Moala, two players known to humiliate isolated fullbacks.
WHAT IS DAMIAN MCKENZIE'S BEST POSITION?
His second challenge is the selectors see him as a specialist fly half who can't get game time there for his Super Rugby team. Perhaps they feel he is too small for fullback, where short players can get targeted under the highball. Or perhaps they just see his skill set as being better suited for the fly half role. Either way, they are not alone in thinking he is a fly half playing at fullback. Although Damian McKenzie burst onto the scene as fullback for New Zealand's Under 20 team's at the 2014 Junior World Championship, everyone seemed to agree that it would be the number 10 jersey he would wear at the highest level. Indeed, he himself made no secret of the fact that is the position he wanted to play and when he emerged on the All Blacks selectors' radar they made it clear they also saw him as a specialist five-eighth.
McKenzie, at 19 already a rising star, signed for the Chiefs in 2014, despite the number 10 jersey being sewn up by Aaron Cruden, who had recently guided the team to back to back Super Rugby trophies. In fact, out of all the teams to have chosen, the Chiefs was the team he was least likely to get many opportunities as fly half… Dan Carter was struggling to string games together at the Crusaders and at the Hurricanes young Beauden Barrett was trying to convince everyone he wasn't just a fullback. There were even easier opportunities at the Highlanders and Blues. McKenzie must have known he would need an injury to get a look in as the Chiefs fly half, but perhaps felt it was the best place to develop his game.
Two years later and McKenzie has been not only the best fullback in two seasons of Super Rugby, but arguably the MVP in the competition.
It wasn't enough to break into the All Blacks. He was a non-playing squad member for the Wales series in 2016 and eventually made his debut off the bench in the 2016 Rugby Championship. His first start came against Italy on the End of Year Tour. His struggle to be taken seriously by the selectors continued in 2017 where he missed selection for the British and Irish Lions tour. The All Blacks selectors made it clear they saw him as a first-five eighth and he needed to prove himself there. McKenzie's inability to earn selection despite dominant performances in Super Rugby soon had overseas clubs circling.
Jordie Barrett's season-ending injury and Ben Smith's imminent sabbatical have forced the selectors to re-evaluate their position. They prefer Israel Dagg on the right wing, and even if they were to move him back to fullback, New Zealand is suddenly looking very light on cover.
Steve Hansen's hands were tied and McKenzie started at fullback for All Blacks against the Wallabies in the opening game of the 2017 Rugby Championship. His performance earned plaudits but a couple of errors, at least one of which directly lead to an Australia try caused doubts as to whether McKenzie was suited for the game at this level.
To be honest, I'm not sure whether Damian McKenzie is cut out for test rugby. I'm not sure his game will work as well if he needs to slow it down to cut down the errors. However, I know that he not only needs to be given a chance there, it needs to be given an extended opportunity. At the end of the day, he may not be able to tighten his game up enough to become a leading International player but he's earned his opportunity. Hopefully the All Black selectors use the Rugby Championship to prove that, and when he takes that experience into a season playing number 10 for the Chiefs, and everyone gets what they want… Damien McKenzie: the world class fly half, or at the very least a Beauden Barrett mk II impact utility sub in the interim.
Share: