THE TEN ESSENTIAL TIPS FOR SUCCEEDING IN FANTASY RUGBY
Fantasy Rugby is essentially a game of luck, especially early on in a rugby season. Unpredictable games and players, and nuances in the scoring and point counting systems combine to make your success in each round of Fantasy Rugby pretty much just luck of the draw. However, there are a number of fantasy rugby tips to reduce the unpredictability and give yourself more power over your team's success. These tips are not rocket science, but they have served me relatively well in my ten years of playing in fantasy rugby leagues.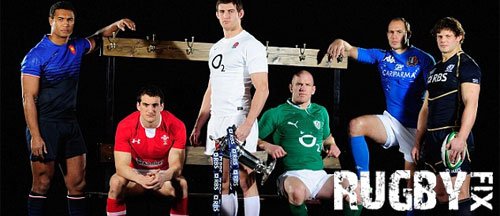 1. FANTASY RUGBY TIP ONE: ALWAYS HAVE A VALID TEAM!
If one of your playing spots is vacant before the round cut-off time your team is considered invalid. This means your entire fantasy rugby team will not accumulate any points in that round. The entire round becomes a write-off. Having an invalid team for a round is impossible to recover from as you give everyone else too much of a head start.
2. FANTASY RUGBY TIP TWO: DOUBLE CHECK ALL YOUR TEAM MEMBERS HAVE BEEN NAMED TO START.
On round cut off day I compare each member of my fantasy rugby team against the latest team announcements. Having a member of your team withdraw with injury means the player needs to be replaced immediately. Having non-players in your team, especially in the key point scoring positions such as inside packs and loose forwards, will severely lower your points for that round. The benefit of being prompt with selling injured players means you will get a better price for them than people who sell them later. Unfortunately, there is no way to allow for late withdrawals after the fantasy rugby round cut-off. All you can do is keep an eye on who might be under an injury cloud and consider the risk versus reward before you finalise your team. Depending on the injury and how many trades you have spare, it may be worth selling the player in anticipation of next week. At the very least you might make some money when it comes to buy him back, as many people will sell the player in a panic once the points for that round are released.
3. FANTASY RUGBY TIP THREE: BE WARY OF TEAM CHANGES TOO CLOSE TO THE DEADLINE.
I once made an arbitrary change to the locks in my fantasy rugby team an hour before the deadline cut off. As I was about to replace the player I sold, my computer froze and I was unable to get back online to replace him. The time ticked away as I frantically tried to use a mobile phone to buy a player, any player. As the minutes to the deadline got closer the site became more and more unresponsive. I ended up with an invalid team. The worst part was I didn't really need to sell the player; I was just trying to tweak the team a little.
4. FANTASY RUGBY TIP FOUR: PUT YOUR MONEY WHERE IT COUNTS
I am a big proponent of spending my money on the big fantasy rugby point earning positions. These are usually the inside backs and loose forwards. You cannot win without players like Dan Carter, Matt Giteau, or Jonny Wilkinson. On most rounds they are point making machines, and so I pay whatever it takes to get them. If having Dan Carter in my time means I have to have a replacement prop taking a spot in the front then that is a price I am willing to pay.
I usually place a lot of emphasis on loose forwards too, and a player like Richie McCaw is almost as essential as Dan Carter. However, the rule changes recently are challenging that philosophy because openside flankers are not making as many turnovers or one on one tackles as they used to. In the 2010 Fantasy Super 14 Test Rugby competition Richie McCaw offered very poor value for money.
A good line-breaking midfield or outside back, like Ma'a Nonu can also be invaluable. However, I find that investing too much money in such a player can be risky as they can be shut down or have off games. It depends how much money you have to play with though.
Some people put their money elsewhere. Someone in my Fantasy Rugby league advocated spending the most money on the tight five, particularly the locks. While in actual rugby union the game is still won up front, in my opinion this is not the case in Fantasy Rugby. Those players are more prone to having low scoring weeks as their input into a game is not always reflected in the allocated points. Also, it is easier to find a cheap lock that earns respectable points each week than a fly-half.
5. FANTASY RUGBY TIP FIVE: DON'T WASTE YOUR MONEY
Don't waste your money where you won't get a return for your investment. Just as more money should be spent on positions that provide the most return, don't waste it on positions where there won't be. When my fledgling team is starting out I spend as little money as possible on the front row players. If I can find a cheap hooker then that's great. In the 2010 Fantasy Super 14 Test Rugby competition Pek Cowan was originally cheaper than most of the props and he was starting at hooker. Props are generally a waste of money in Fantasy Rugby, but if having them allows me more money to invest elsewhere then I still buy them. Also, a prop might have a big week in the fantasy rugby points scoring department, but they are less likely to back this up in consecutive weeks than other positions.
6. FANTASY RUGBY TIP SIX: WATCH FOR MIS-POSITIONING OF PLAYERS.
Sometimes due to a mistake in position allocating to players or the versatility of players you will have players set as a certain position in fantasy rugby, but playing in another in actual rugby. A common example of this is with locks and loose forwards and inside and outside backs. A good opportunity to capitalise on this is when a player is playing as a loose forward is allocated as a lock in fantasy rugby. Loose forwards generally earn more points so this is a good opportunity to get another one on the 'field'. For his first couple of years as a professional rugby player flanker and number 8 Kieran Read was named in fantasy rugby and testrugby as a cheap lock, even though he rarely played in that position.
7. FANTASY RUGBY TIP SEVEN: BE AWARE OF BYE ROUNDS.
It is important to note when teams have their bye rounds. If you are short of trades then it is not a good idea to buy a fantasy rugby player you will have to sell the next week because their team is not playing. Also, be quick to sell players when their team has a bye so you get more money than other people do for that player. Likewise, buy players as soon as their team returns from a bye so you get a cheaper deal. There is an element of risk in this because they haven't been named to start, but make an educated guess on whether they'll play and the reward should outweigh the risk.
8. FANTASY RUGBY TIP EIGHT: LOOK FURTHER AHEAD WHEN BUYING PLAYERS
Think about upcoming rugby fixtures and byes before buying a player. If you are deciding between two players and one is playing a weak team a week later, then choose that one. Likewise, look to which player first and let that help you decide. When starting a fantasy rugby series I try to pick players who I won't have to sell for a while, and this helps ensure I have enough trades later.
9. FANTASY RUGBY TIP NINE: LOAD UP AGAINST THE WORSE TEAMS
Weak teams are a license to print points in fantasy rugby, particularly for goal kickers and line breakers. An example of this would be the current Lions team in the Super 14. If I have enough trades I load up against teams like this. The downside to playing these teams is that rugby coaches often use the opportunity to rotate their team. Be sure to check your player is actually starting when the teams have been named in case they have been rotated out. In the last couple of seasons some competitions, like Super Rugby have become noticeably closer. So there are less blow-outs and more upsets, which makes predictions more difficult.
10. FANTASY RUGBY TIP TEN: BEAT THE PACK WHEN REPLACING PLAYERS
Use fantasy rugby player replacement as an opportunity to enhance your team's value. If a player needs to be sold, perhaps if their team has a buy or they are injured, then the sooner you sell the better price you will get. This is especially true if he is a very popular player that everyone will be selling. If you need to buy a player then the quicker you buy him the cheaper he will be.
These fantasy rugby tips won't ensure you beat everyone else in your fantasy rugby league, nothing can in sport. However what it can do is give you more control and power to be more strategic. By the end of a few rounds I usually have more money and more remaining trades than other players, and that gives me more control of my team than they have of theirs. By the middle of the competition I can afford any player I want, and have enough trades to swap players more liberally.
Finally, use Fantasy Rugby as a way of enhancing the fun and your and interest in rugby. Don't let an off-week ruin your enjoyment of the beautiful game!
Share: